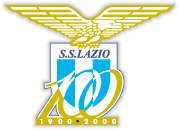 Postal Address:
Società Sportiva Lazio S.p.A.
Via di Santa Cornelia, 14
00060 FORMELLO (RM)
Italy

Phone number:
+39 6 9040601

Fax number:
+39 6 90400127

E-mail:
lazio@lega-calcio.it


The WFO has no official affiliation with any football club or national football association. The WFO are not representatives of any clubs contained herein unless specifically noted elsewhere in this website.



Clubs in Crisis
Referral links:
Amazon.co.uk : Football
Amazon.com : Soccer
Amazon.fr : Football
Amazon.de : Fußball
Partner websites:
Football Crests